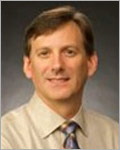 Medical School: University of Washington, Seattle, Washington
Residency: Massachusetts General Hospital, Harvard Radiation Oncology Program, Boston, Massachusetts
Board-certified in Radiation Oncology
External Beam Radiation Therapy (EBRT)

Image-Guided Radiation Therapy (IGRT)

Intensity-Modulated Radiation Therapy (IMRT)

Volumetric Modulated Arc Therapy (VMAT)

HDR Brachytherapy for Gynecologic Cancers
I joined the TIROG group 14 years ago, and I practice at Valley Medical Center in Renton alongside Dr. Travaglini. Here, we have two linear accelerators and also provide brachytherapy treatment for patients with gynecologic cancers.
I grew up in the Seattle-Tacoma area, served in the U.S. Navy and practiced at the NIH prior to returning to Seattle. In my free time, I enjoy spending time outdoors with my wife and three children.
I strive to provide personalized and quality care for all of my patients. I understand patients see us during a time of high anxiety, and Itry to address common concerns that patients have as soon as possible.